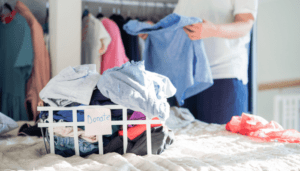 Decluttering your home can seem like a daunting task, but it doesn't have to be. By breaking it down into smaller, manageable tasks, you can make the process much more manageable. Follow this list of 100 things that you can easily declutter right now for a clutter-free home.
Clutter-free Room by Room Guide:
Living Room
Empty Candles

Dead Flowers

Old/Read Magazines

Damaged Pet Toys

Extra Glass Vases

Used Batteries

Flat/Old Pillows

Damaged Books

Unused Decor

Damaged Lamp Shades
Playroom
Damaged Toys

Used Coloring Books

Empty Paint/Markers

Scratched CDs/DVDs

Games/Puzzles with Missing Pieces

Broken Crayons

Extra Stuffed Animals

Excess Artwork/School Papers
Kitchen
Un-opened pantry items that your family aren't eating– donate to the food bank if not expired 

Unused Appliances

Used Water Filters

Old Baby Bottles

Rusty Silverware

Expired Spices

Leftover Matching Paper Plates/Napkins

Chipped Plates/Bowls

Expired Pet Treats

Old/Unused Pantry Staples

Torn/Worn Dish Towels

Duplicate Kitchen Utensils

Empty/Flat Drink Bottles

Promotional Cups

Old Storage Containers

Unused Coffee Mugs

Old Takeout Menus

Empty Cleaning Product Bottles

Extra Takeout Condiments/Utensils

Unused Shopping Bags

Old Frozen Food (if you don't know how old it is, toss it!)
Bedroom
Unused/Old Linens

Empty Tissue Boxes

Old Pillows

Unidentified Remote Controls
Closet
Socks/Underwear with Holes

Broken Jewelry

Damaged Belts/Purses

Empty Shoe Boxes

Clothes That Haven't Been Worn in More Than a Year

Broken Coat Hangers

Socks Without a Pair

Leftover Buttons

Unused Suit Bags

Damaged Shoes

Outgrown Kids' Clothing

Stretched/Old Bras
Bathroom
Expired Medication

Excess Sample-Sized Toiletries

Old Toothbrushes

Dried/Empty Nail Polish Bottles

Empty Toiletries

Damaged/Worn Towels

Promotional Makeup Bags

Broken/Unused Hair Appliances

Old Makeup

Moldy Bath Toys

Worn-Out Brushes

Damaged/Dirty Makeup Sponges

Old Medicine Droppers

Empty Hand Soap Bottles

Stretched Ponytail Holders

Broken Scales

Mildewed Shower Curtains
Office/Craft Room
Owner's Manuals (most can be found online now!)

Old Receipts/Paperwork

Crumbled/Damaged Paper Products

Old Printer Cartridges

Dried Out Pens

Old Cell Phones/Cases

Unused Jump/Thumb Drives

Unidentified Charging Cables

Old/Empty Craft Supplies

Used/Empty Notepads

Excess Gift Wrapping Supplies

Almost Empty Wrapping Paper Rolls

Outdated Electronics
Outside
Broken Toys

Rusted Tools

Old Paint Cans

Old/Unused Sport/Hobby Equipment
Digital
Duplicate Pictures

Unused apps

Junk Email (

unroll.me

is great for this)

Screenshots/memes you'll never use again

Completed/unneeded inbox emails

Old Contacts

Items on Computer Desktop

Social Media Follows

Unneeded text messages

Watched TV Shows on DVR
Misc.
Empty Lighters

Unused Reward/Loyalty Program Cards

Empty Baby Wipes Boxes

Expired Coupons/Gift Cards

Loose Change (cash it in instead!)

Old Calendars

Duplicate Holiday Cards

cool card board boxes that you've saved but never used
By decluttering these items, you'll not only free up space in your home, but you'll also make it easier to find what you need and to keep your home clean and organized. Plus, you'll likely feel a sense of relief and accomplishment once you've tackled this decluttering challenge. A clutter-free home is a joy to live in. Remember to take it one step at a time so you don't get overwhelmed.
Happy decluttering!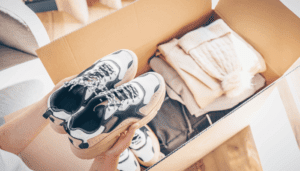 If you would like to explore working with me, book a FREE consult today!